Now that the new NHL season is set to start shortly, trade rumors involving the Flyers are guaranteed to come up. The craziest one I heard recently was that Flyers GM Paul Holmgren is interested in Canucks Goaltender Roberto Luongo.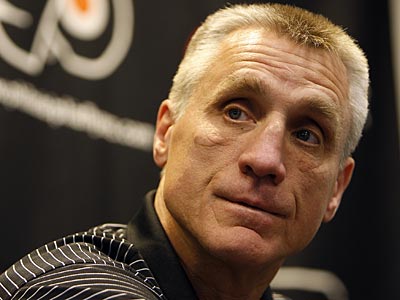 This seems absolutely crazy because Luongo is the one goalie in the league with a worse contract than Ilya Bryzgalov, current Flyers Goalie. Based on the rumors, Homer wanted to trade for Luongo and then amnesty Bryz after the season. However you feel about a possible trade for Luongo, you have to look at who the Flyers may have to trade in order to get the highly coveted, yet highly criticized goaltender Bobby Lu.
Note: In my opinion, we should just stick with Bryz and see how he does considering he's done his first year here. I think that can make a difference.
This brings me to the main point of this post. The two players the Flyers have that have arguably the most value in a trade(not including Giroux, he's not going anywhere) are youngsters Brayden Schenn and Sean Couturier. Looking on twitter this morning, I saw a lot of tweets in which people were giving their opinion as to who they would rather give up in a trade. Some would rather keep Schenn because he is a bit more aggressive and has a better offensive game and some would rather keep Couturier because of his maturity and strong defensive game. I'm here to give my view that both players should be labeled as "untouchable" and shouldn't be moved for anyone (Unless it's someone crazy like Stamkos or Quick, but that's unrealistic).
Brayden Schenn was acquired by the Flyers in a blockbuster trade in June of 2011. The Flyers sent the L.A. Kings Mike Richards in exchange for Brayden Schenn, Wayne Simmonds and a 2nd round draft pick. Even though I am still a huge fan of Mike Richards, given how well Simmonds played last year and the potential of Schenn, this seems to be a good deal for the Flyers, as well as for the Kings as they just won their first Stanley Cup.
Schenn is a center/winger who has the play style of a mix between the aforementioned Richards and Blackhawk Jonathan Toews. He is an aggressive player who isn't afraid to hit someone and get into the dirty areas, but he also has a lot of offensive skill and talent. Last year, Schenn was hit with multiple injuries, but once he scored his first career goal at the Winter Classic, he turned his season around and looked like he could be a legitimate goal scorer in this league. He isn't afraid to shoot.
In an age where there are some incredible goalies, goals are hard to come by. Steven Stamkos of the Lightning didn't lead his team to the playoffs, and he didn't have nearly as many points as Evgeni Malkin, but he was a nominee for the Hart Trophy last year. Why? Because he scored 60 goals and he was always in a spot to help his team win. If you can score goals, you have value.
Take Jeff Carter for instance, he was recently traded twice. Some Flyers fans may enjoy the fact that he is gone now, but when he was traded to the Blue Jackets and Kings, the other team received a lot of compensation, more than a lot of people would think. Why is he so valuable in trades? Because he can score goals.
Brayden Schenn, the second half of last year, showed he has the potential to score his fair share of goals. After trading guys like Carter and more recently James van Riemsdyk, the Flyers need some guys who can score goals. Scott Hartnell isn't the best player on the team by a long shot, but he was so valuable to our top line last year because he potted 37 goals. Because of this, I feel that Schenn has a large amount of value to our team for the present and more importantly, the future. Because of that, I think Brayden Schenn is untouchable.
Sean Couturier is the other main part of the Flyers future success in my mind. He was acquired by the Flyers after we traded Jeff Carter to the Blue Jackets for Jake Voracek and two draft picks (one used to draft Couturier). Couturier stands out because he was able to make the opening day roster his first year as an 18 year old. This only happens to a couple rookies every draft class and you take note when it happens. Given his on ice maturity and defensive prowess, Couturier was also able to contribute positively to the team. This was very evident in the first round of the playoffs this past year against the Penguins. Couts had the job to shadow MVP Evgeni Malkin, a very daunting task for a rookie or anyone for that matter. While Malkin was still able to score his share of points that series, he was noticeably off his game and became frustrated because Couturier was playing so well, leading to Flyers advancement.
Defense wins championships, as the saying goes. Sean Couturier, assuming he continues to develop, has a chance to be in the running for the Selke trophy for best defensive forward in his career. Recent winners and nominees have had great personal and team success (Datsyuk, Bergeron, Toews, Kesler). I can see Sean Couturier having a similar impact on the Flyers in the near future.
Defense isn't everything though, all of the players mentioned above also have great offensive skill and talent. Couturier is no different. Couturier was able to score 27 points playing mostly on the 4th line last year and scored some nice goals. Sean is a big kid (6'4") who actually reminds me of a more rounded version of Jeff Carter, he has a nice, smooth and quick wrist shot. His vision and skill are going to make him an important player in the NHL. Potentially trading him would be a mistake in my mind. He plays well defensively and has the tools to be a big contributor offensively, also evident by his numbers in juniors. Because of this, I see Sean Couturier as untouchable.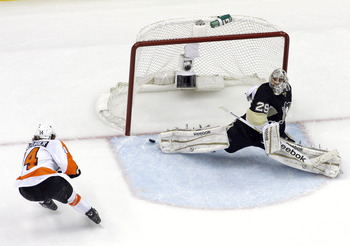 Before last season, the Flyers traded their two best forwards in Mike Richards and Jeff Carter. By the information and evidence I just provided, we received two players who compare to those two and really have the potential to surpass them. The Flyers shouldn't potentially give up on this opportunity by trading one or both of Brayden Schenn and Sean Couturier. To me, both of these players are untouchable.
Thanks for reading everyone! This has probably been my longest piece and I like to think it turned out pretty well, while also being relevant to today's news. I hope you enjoyed it!
Steve
LETS GO FLYERS!!