It is reported from multiple sources that the Philadelphia Flyers have offered UFA Zach Parise a contract for 12 years worth about 100 million dollars. Parise is the cream of this years free agency crop and was being pursued by almost every team today. This contract offer goes to show how highly many teams covet the 27 year old winger.
Zach Parise is a complete player. He is a very talented goal scorer, can pass the puck equally as well. He is very adept at playing a 2-way style and isn't afraid to play gritty and get into the dirty areas. He is also a leader and plays the game the right way. A hard worker who you can respect. Was Captain of the Devils last season.
Just recently, a 'short list' was leaked for teams Parise was interested in signing with. The list included New Jersey, Philadelphia, Pittsburgh, Minnesota and Detroit. Another thing to take note of is the fact that Parise didn't like being behind former teammate Ilya Kovalchuk in the New Jersey spotlight. If this has an impact on who he signs with, Pittsburgh doesn't make much sense. He would be third fiddle behind both Sidney Crosby and reigning MVP Evgeni Malkin. Detroit has Pavel Datsyuk and Henrik Zetterberg. In Minnesota, Parise's home state, Zach would be King, but the Wild don't have nearly as good a team as the others mentioned which may have an impact as the Wild aren't a bonafide Stanley Cup contender. New Jersey may be the best option has he has played his whole career there. But, the Devils have had some financial issues as an organization, and another giant contract wouldn't be good for the team.
This leaves Philadelphia, a young team with a lot of youth, talent and potential. Claude Giroux is the head honcho here, which may be an issue but when you think about it, Giroux and Parise would play together. It would be leading a team by committee, which could be intriguing for Zach.
Now we must understand that the Devils and Flyers have a bitter rivalry. What we don't know is how Parise will react to that though. If he doesn't consider the rivalries of the team he signs with, Philadelphia could be a very likely landing place for the American winger.
Flyers fans like myself are salivating at the thought of having a line consisting of Claude Giroux, Zach Parise and Scott Hartnell. If Parise was to join the Flyers, the team would be an instant favorite to win the Cup, which is the primary goal for any hockey player.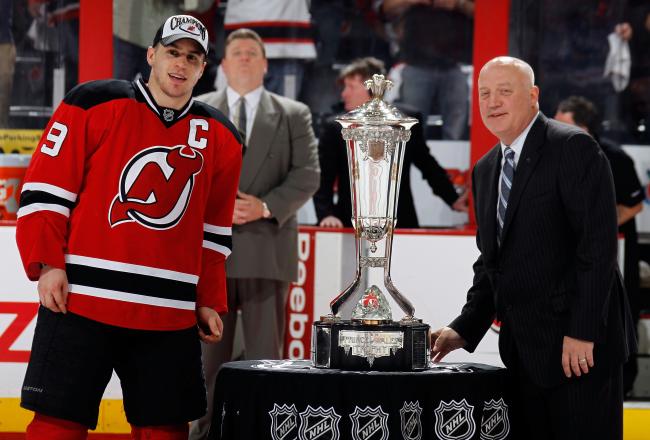 Could Zach Parise be headed for the City of Brotherly Love? It may make people laugh, but this seems like a very likely landing place for Parise. We know that Zach will wait until tomorrow to make his decision, so at this point, we can just speculate.
These are my views and reasons to why I think the Philadelphia Flyers are a very reasonable place for Zach Parise to sign with.
Follow me on twitter @PhillySteve15